About Mutto
Muuto, with its origins deeply anchored in the Scandinavian design tradition, is known for its enduring aesthetics, functionality, masterful craftsmanship, and authentic expression. The name Muuto, derived from the Finnish word "muutos," meaning "new perspective," is a testament to their philosophy of providing unique design interpretations through handpicked contemporary designers. The distinctive allure of Muuto furniture and lighting products breathes life into any workspace, bestowing a tangible elegance and class that is hard to miss.
Muuto has gained prominence for its elegant and comfortable sofas, the perfect additions to any workplace aiming to cultivate a high-end, residential-inspired aesthetic. These creations effortlessly blend into their surroundings, enhancing the atmosphere while preserving functionality. Moreover, Muuto's beautiful swivel armchairs have become an increasingly popular choice, gracing meeting rooms of all sizes. With their blend of style, comfort, and practicality, they offer the perfect seating solution. At its core, Muuto symbolises a fresh perspective on design, where beauty and functionality coexist in perfect harmony.
Muuto Under The Bell Pendant Lamp: A Statement in Sustainable Elegance
Muuto Under The Bell Pendant Lamp is perfect for elevating spaces with timeless sophistication. Mutto has been used across numerous projects we've worked on including DTRE, Criteo and Glenstone Property.
Designed by the renowned Copenhagen-based duo, Iskos-Berlin, this eye-catching piece seamlessly blends sustainable design with Danish minimalism.
Crafted with care in Germany, this bell-shaped pendant lamp creates more than just illumination. It forms its own intimate, sheltered space within any room it graces, creating a unique atmosphere and enhancing the acoustics through its soft shade.
The key to this lamp's charm lies in its innovative use of materials. The Under The Bell Pendant Lamp is a testament to Muuto's commitment to sustainability, designed with up to 41% fibres from recycled plastic bottles. This inventive use of resources offers both a tactile and modern expression that is as gentle on the environment as it is pleasing to the eye.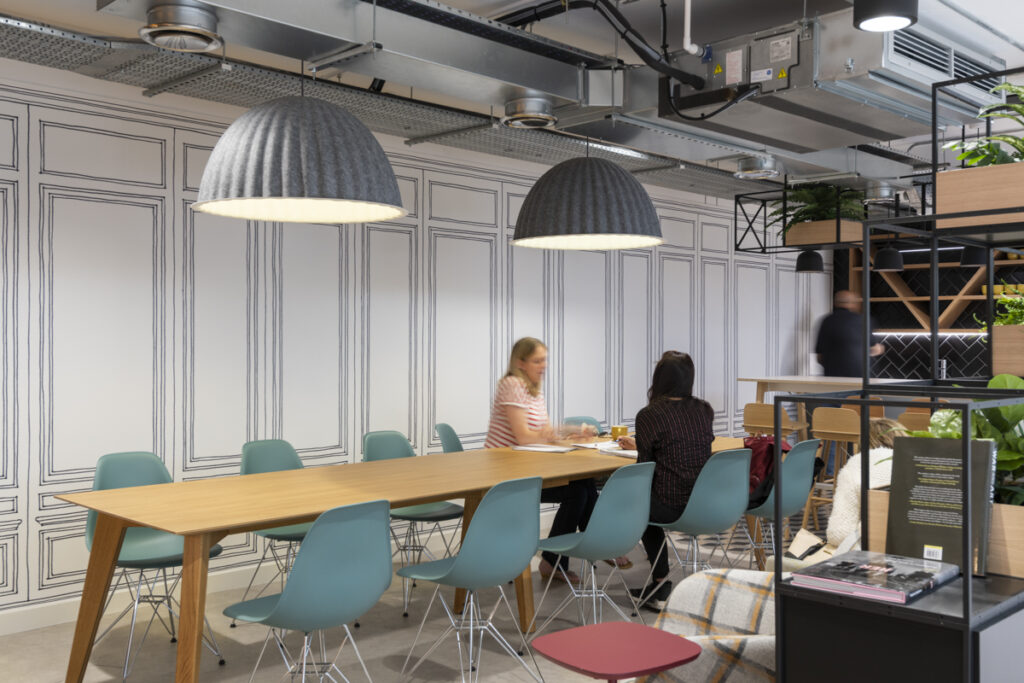 Talk to us about office furniture solutions
We'd love to hear more about your office furniture requirements. Send us a message and one of our office furniture experts will get back to you.
We love sharing our insight from the industry